Jennifer Anne Moses
I'm a writer as well as a painter.
According to Google, I am a "multi genre" writer–but it's more than a matter of genre. I internalize different worlds and voices, and eventually it all bubbles up into my work.
My new book is called Domesticity. It is my first collection of poetry. (can be purchased at Amazon, Barnes & Nobles, and the other usual suspects.)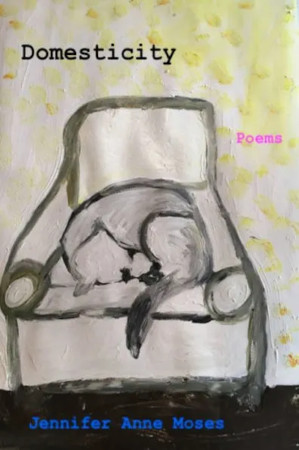 My most recent work of fiction, The Man Who Loved His Wife, is the result of my deep dive into Yiddish literature and my love of the Hebrew language. Jews being Jews: that's what its subject is. As I was writing it, I felt like I was downloading from the Yiddish greats
Leon Weiseltier says: "Jennifer Moses has the Malamudian touch, and an uncanny gift for transposing the Yiddish mixture of mordancy and compassion into lively English stories."
The Jerusalem Post: "Jennifer Anne Moses's first book of short stories – 13 of them –is a wry, unsentimental commentary on modern Jewish American life Her great skill is in conjuring up from her most fertile imagination wholly believable human beings, complete with their strengths and weaknesses, and carving out a slice of their existence for us.
In many of her stories we enter their lives, walk with them for a certain distance, and depart. Wholly nonjudgmental, she never provides a moral for her stories, leaving the reader to draw any, if they exist.
As a writer, Moses inhabits a wide variety of personalities – from a Holocaust survivor to a boy of nine, from a middle-aged husband to a promiscuous young woman – and each is believable because each has been imagined so fully.
The essence of the Jewish spirit permeates the stories.Yet there is also a universality in the themes that Moses explores and the characters she creates. She understands the human condition, and she presents her people and their circumstances without judging them. This collection of short stories is certain to provide a great deal of pleasure to anyone interested in people and what makes them tick. It is highly recommended."
https://www.jpost.com/diaspora/modern-jewish-american-life-tackled-in-new-book-684693
Lilith Magazine: "The stories in Jennifer Anne Moses's new collection The Man Who Loved His Wife are by turn funny, sly, poignant, and intelligent. And although they range widely in tone, setting and character, they share one common trait: they are all thoroughly and profoundly Jewish." https://lilith.org/2021/06/jennifer-anne-moses-on-jewish-storytelling/
The Jewish Standard: "How do you grow up in Virginia, not knowing any Jews except your own family, and find yourself so deeply drawn to Judaism, that when you grow up. . . .your new book of short stories, "The Man Who Loved His Wife," is as quintessentially Jewish as, say, Philip Roth's work was? Or Bernard Malamud's? Or any of those 20th-century American Jewish writers whose work makes up the canon we think of today?" https://jewishstandard.timesofisrael.com/no-easy-answers/
Shelf Media: "Moses is a storyteller and conversationalist combined. Her collection is theatrical and bold. She has a way of taking ordinary life events and transforming them into these peculiar moments that readers will remember long after they've closed the book." https://shelfmediagroup.com/review/indie-review-the-man-who-loved-his-wife-by-jennifer-anne-moses/
Washington Jewish Week: "Each (story) is a well-written gem, peopled with strong, strange-verging-on-weird characters, whose predicaments inexplicably mattered very much to me. Well, maybe not so inexplicable, for, as I mentioned, Moses can write." https://www.washingtonjewishweek.com/78709-2/
New Books Network: "Moses is reminiscent of writers like Isaac Bashevis Singer, Cynthia Ozick, Chaim Grade, and Philip Roth (to name a few) who captured the spirit of humanity in a specific time and place." https://newbooksnetwork.com/jennifer-anne-moses-the-man-who-loved-his-wife-mayapple-press-2021
Jewish Boston: "Jennifer Moses's engaging collection of short stories is rooted in Jewish culture and mores and are set across the dynamic Jewish diaspora. Moses is a gifted writer and a wonderful storyteller . . . . unforgettable."
Readers whose hearts and souls---and histories—sing to distinctly Jewish melodies will recognize themselves, their families, their anxieties, their histories, and their fellow Jews in the stories.
My journalistic and opinion pieces have been published in The New York Times, The Wall Street Journal, The Washington Post, the Chicago Tribune, The Atlanta Journal Constitution, The Newark Star Ledger, USA Today, Salon, The Jerusalem Report, Commentary, Moment, and many other publications. I blog regularly for The Times of Israel.
I'm also a painter in the Outsider tradition, where I fuse Hebrew prayer with a distinctly Southern sensibility, born of the many years I lived in Baton Rouge, Louisiana, with my husband and three children.
I now live in New Jersey with my husband and our two very bad dogs.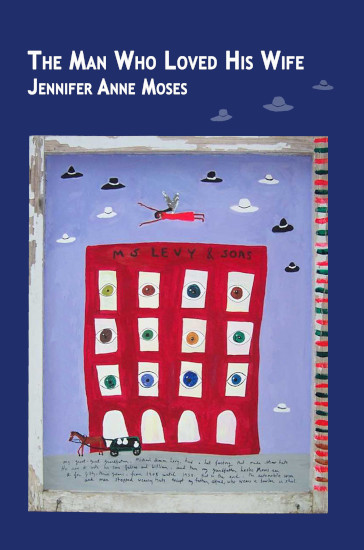 The cover painting is a depiction of my grandfather's hat factory, in Baltimore, Maryland. By the time I was born, it had been shuttered, and the building was torn down to make way for new construction.